> Dienst Packaging Systems's website
High-end machinery for automatic cartoning and case packing, specialist in the following types of packaging; side load, top load, end of line and customizing.
SIDES LOAD
The HK series, characterized by its flexibility and performance, fully automates the case packing process through the combination of unfolded and formed modules of the box, product insertion and flap closing. Applicable in a multitude of food and non-food sectors, it allows both individualized and groupage products to be inserted into the box, achieving rates of up to 400 cycles/minute, depending on the product and the application.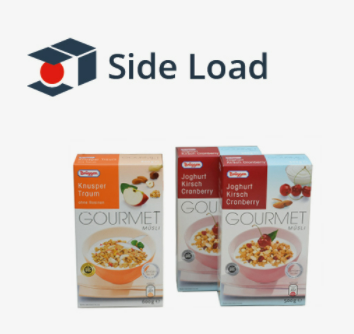 TOP LOAD
DIENST has different models of machines for forming and closing flap boxes designed for top loading. Applicable in numerous food sectors (chocolates, biscuits, ice cream...) In combination with a manual filling process, or with an automatic filler, these equipments allow working with boxes and hinged lid trays of different sizes and qualities.
END OF LINE
The HE series allows products to be packed in different formats: wraparound, base-lid, American box... With a modular and ergonomic design, these lines allow high flexibility while offering optimal performance and efficiency.
SPECIAL AND CUSTOMIZED DESIGNS
DIENST has equipment to work with special designs and shapes of boxes, cartoners, banders, etc.
Whatever you want to package, Dienst has the perfect machine for the job
Non-food or food, we guarantee gentle handling and meet the very highest hygiene
standards. The modular design of our machines ensures a wide array of expansion possibilities and adaptation in line with various requirements.